The New Ram 2500 - The Perfect Heavy-Duty Pickup Truck For all of Lynchburg's Work Needs
Lynchburg, Virginia is the home and hearth of pickup truck country, and if there's one brand name that's truly respected throughout the pickup truck market, it'd have to be Ram.
We don't like bragging, but here at Billy Craft Chrysler Dodge Jeep Ram, we're certain that our new Ram trucks in Lynchburg are at the very top of the food chain when it comes to the pickup truck pecking order. And if you ever needed evidence to verify the Ram truck brand's dominance, the Ram 2500 is certain to provide it.
Big, powerful, and packed from bumper-to-bumper with features and tech to help you work just as smart as you work hard, the Ram 2500 is what you'd get if you took every Lynchburg, VA contractor, construction worker, and farmer's wish lists for a pickup truck and actually built it to those specifications. In short, if you're looking for a work truck, there's no substitute for the new Ram 2500 and we'd love to show you what it can do here at Billy Craft Chrysler Dodge Jeep Ram.
Performance & Capability
Strength is at the core of all Ram trucks, and the new Ram 2500 is no exception. After all, if you're looking for something that's going to haul heavy-materials and tow trailers, you can't afford to skimp on the horsepower and torque. Luckily, the new Ram 2500 has no shortage of strong engine options for working drivers.
6.4-liter HEMI® V8 engine
Horsepower: 410 Horsepower
Torque: 429 Pound-Feet of Torque
Max Payload: 6,600 Pounds
Max Towing: 17,130 Pounds
6.7-liter Cummins® Turbo Diesel I6 engine
Horsepower: 370 Horsepower
Torque: 850 Pound-Feet of Torque
Max Payload: 5,730 Pounds
Max Towing: 21,560 Pounds
As you can see, both engines are exceptionally well-suited to heavy hauling, with the ability to move most cargo and utility trailers, boats, and campers with ease.
For most Lynchburg, VA drivers, the 6.4-liter HEMI® V8 engine will prove more than suitable for moving bulky construction supplies like soil, gravel fill, stone, or even a trailer with ride-on mowers for landscaping. In a pinch, it'll even most large travel trailers and toy hauler trailers with ease, making it the engine of choice for both work and play on the new Ram 2500.
However, if you're looking to do some serious fifth-wheel towing, you should go for the available 6.7-liter Cummins® Turbo Diesel Engine, which boasts enough towing power to move livestock trailers with confidence.
Features & Technology
Features and Technology
Muscle is one thing that the new Ram 2500 has in spades, but don't mistake it for a heavy-duty truck that's all brawn and no brains. In fact, one of the things that keeps Lynchburg, VA drivers coming back to the Ram 2500 year after year is the fact that it offers features and technologies that are designed with working truck drivers in mind.
For example, if you're working in construction, chances are your day consists of driving from jobsite to jobsite, sometimes over some truly unforgiving terrain. Fortunately, when the paths you travel are uneven and unyielding, you can count on the new Ram 2500 to traverse them with confidence thanks to its Auto-Leveling Rear Air Suspension, which improves its dynamics even when you've got a full payload of tools and supplies in the bed.
Test Drive the New Ram 2500 at Billy Craft Chrysler Dodge Jeep Ram in Lynchburg, VA today
There's plenty more that makes the new Ram 2500 one of the most trusted heavy-duty trucks for working drivers, but to really get a feel for its performance and capabilities, the best view is found in the driver's seat. So, if you happen to be in Lynchburg, VA, don't hesitate to drop by Billy Craft Chrysler Dodge Jeep Ram to browse our inventory, check out some of our new Ram 2500 leasing options, specials, and truck loans, and have a chat with our team about taking one of these big and bold pickup trucks for a test drive today.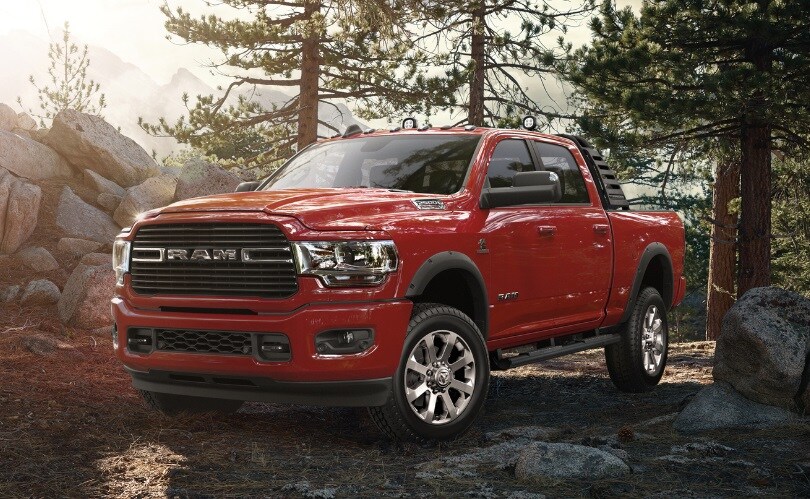 Hours
Monday

08:30AM - 07:00PM

Tuesday

08:30AM - 07:00PM

Wednesday

08:30AM - 07:00PM

Thursday

08:30AM - 07:00PM

Friday

08:30AM - 07:00PM

Saturday

09:00AM - 04:00PM

Sunday

Closed